2022
Riley Miller
Little Dragon
Once again, the Student of the Year trophies took so long to get here that our Little Dragon Student of the Year is about to be promoted to the Youth Beginner Class. We are proud of her for moving up but hope she will continue to be our studio ambassador. She befriends every new student, gives them a tour of the studio, and makes them feel welcome. The 2022 Little Dragon Student of the Year is Riley Miller.
Silas Hale
Youth
Our Youth winner is one of those kids who make you wonder, Is there anything he can't do? As well as martial arts, he does Lacrosse, Drum lessons, Fiddle lessons, Robotics and Cub Scouts. He is also an active, and winning, tournament competitor. It's been awesome to watch him grow and mature, taking on leadership roles and rising to his rank of Cho Dan Bo Level 2, taking his martial arts to a new, and much higher level And he is humble. The only reason he is not a Level 3 is that he chose to wait. The 2022 Youth Student of the Year is Silas Hale.
Dakota Self
Adult
Our Adult Student of the year is one of what I like to call our wandering black belts. Already a black belt when he wandered into the studio, he stayed anyway. He has been immensely helpful to the studio including starting a Jiu Jitsu program and teaching our Intermediate / Advanced youth class on Tuesdays. He was already a third degree black belt in Shorin Ryu, a fourth degree black belt in Jiu Jitsu, founded his own style—Akaishido Ryu Jiu Jitsu, and has now managed to earn his first degree black belt in Tang Soo Do in a bit over a year. We are so happy to have him as part of our staff. The 2022 Adult Student of the Year is Dakota Self.
2021
Maximus Henry
Little Dragon
The trophies took so long to get here that our Little Dragon Student of the year has now been promoted to the Youth Beginner Class. We are proud of him for moving up, but miss him in Little Dragons because he was a real class leader, calm, well behaved, followed directions and always willing to help. The 2021 Little Dragon Student of the Year is Maximus Henry.
Harrison Ayers
Youth
Our Youth winner has almost reached advanced belt while we waited on trophies. An extraordinary martial artist, it's also been wonderful to watch him grow and mature, taking on leadership roles, and leading his first full class warm up recently. He is also one of our most active, and winning, tournament competitors. The 2021 Youth Student of the Year is Harrison Ayers.
Shannon Salend
Adult
Our Adult Student of the year might not notice the trophies are from last year. She tends to stay busy as time flies. As well holding down a job, mothering and homeschooling two kids, and a zillion other things she does, she is working on her 2nd gup red belt and is an assist instructor at our Heritage Martial Arts class. The 2021 Adult Student of the Year is Shannon Salend,
2020
Noah Clendenin
Little Dragon
This Little Dragon was four years and three months old when he started with us and is now readying to move up to the Youth Beginner class. In that time, other than planned vacations, he has missed very few classes, and has (well, almost) always been a cheerful, hard-working student. He is a quick learner and probably knows more of our Korean terminology than our red belts. We are proud to award our Little Dragon Student of the year award to Noah Clendenin.
Mason Carter
Youth
Our Youth recipient is the definition of dedication. He works hard, listens well and has the best self-discipline I have seen in a student in a long time. If he isn't in class, I contact his mom to see what's wrong because he never misses. When he arrives for class, he can be seen stretching, or standing still in choong be (ready stance), while others around him are raising a ruckus. He is helpful, attentive, knows how to follow directions, and I am sure he has it in him to attain black belt. We are proud to award our Youth Student of the year to Mason Carter.
Chelsey Rhea
Adult
Our adult student of the year is another totally dedicated martial artist. She well on the way to black belt and we are betting she will get there. This student comes to every class she can and still asks for more. She texts us when she can't be there and even when she is just going to be a little late. She works hard, learns more than required, and is always willing to help with lower rank students. We are proud to award our Adult Student of the year award to Chelsea Rhea.
2019
Mia Willis
Little Dragon
Not many Little Dragons who start at age 4 stay in karate long enough to move to the big kids class. And it seems that every time we feel a Little Dragon is exceptional enough to receive a student of the year award for their performance, they move out of the class.

The same goes for this year's recipient. This student can count to 29 in Korean, knows more blocks and stances in Korean than some of our advanced students and is, on Monday, moving to the big kids class as a 9th gup. And this student is ready. Good kicks, good punches, can do Ki Cho Hyung Il Bu, currently overlapping classes, doing both Little Dragons and Kids class.

Although Duck and Jump is her favorite activity and she will miss doing it as often, we know she will go far with progressing up the ranks learning a more serious version of Tang Soo Do. We are pleased to award our Little Dragon Student of the year to Mia Willis.
Brayden Saylend
Youth
We rarely give our youth student of the year award to a beginner. Watching as children progress is always fascinating. All students do it at different rates. This one did it so fast, we feel like we need to put reins on the kid to keep his head from growing too large.

This student practices during break times and before class. He learns every new form within one class, and doesn't forget it. Although this student is not perfect, the effort and progress we see is still mindblowing. His tip book is always current or ahead and usually includes many more initials than required.
When correction is needed, this student listens, corrects, and moves on, never taking it as criticism and always creating opportunities to improve. We are happy to give our Youth Student of the Year award to Brayden Salend.
Robert Hammett
Adult
Our adult student of the year is a unique individual. We usually wait till the end of the speech to announce the name, but one of our favorite stories of this person is describing the extended family he brings to our studio and everyone here would recognize him right away anyway.
Robert Hammett has brought approximately 1/10th of our student base, all from his extended family orbit. Robert brought his stepsons Miles and Daniel Flath, children of his wife Rebel and her exhusband. He also brought R.J. Hammett, his son with his exwife Becca. And lastly, he brought in Noah Janha, Becca's son with her husband. I love his ability to gather family, close and extended.
The other unique thing about Robert is his meticulous adherence to our Tip Books. We're pretty strict about setting up promotion requirements … and then breaking them. We say to Robert, "You're a half a tip short" or "You've got the tips but three hours short" and that we're okay with him, or one of his sons, testing anyway. His response is that they will get to extra classes, come for open mat, stay extra time, or if none of that is feasible, wait to test. He always tells me he's in no hurry. We truly appreciate that sort of dedication and are looking forward to him earning his black belt, along with two of his sons, within the next year, unless of course he decides he's in no hurry.
2018
Vera June Eastep
Little Dragon
All of our Little Dragons enjoy the play in our classes–Duck and Jump, Punch the Ball, Hit the Wall, and simply running, jumping and yes, yelling and screaming. It is a rare student to take Little Dragon classes seriously enough to not only compete in tournaments to but win. Our Little Dragon student of the year not only competed in several tournaments last year, but medaled in every one of them. She worked out with the regular kids' class so often that we promoted her out of Little Dragons a year early, and she willingly went as a 10th gup in order to work with the older kids. I'm proud to present our Little Dragon Student of the Year award to Miss Vera June Eastep.
Graysun Ingle
Youth
Some students are natural martial artists. Some of us have to constantly work hard to achieve success. I was one of those and our Youth Student of the Year is one of those also. He has been to many tournaments, and initially did not medal in many. However, he watched the performances of the ones who did win, practiced, worked hard, and started to win more. He listens. If I tell him to move his foot a couple inches to make his stance wider, or more narrow, to lock his back leg out, to add more power, he does it without question. He understands that success comes from hard work. He will be testing for his Cho Dan Bo in a couple months and I have no doubt he will do outstanding on the exam. I'm proud to present our Youth Student of the Year award to Mr. Graysun Ingle.
Ryan Crawford
Adult
Our adult student of the year is one of the most generous and giving people I have encountered. He not only manages to work a full time job, work out at the Y, run in road races and marathons, and get to his own karate classes, he still makes time for his family and their friends, and is the driving force to make everything work for his extended family.

He has brought in several students to join the studio, and he is also the one to make sure they get to classes. And he not only gets his and the other kids to karate, but boy scouts, school and various other events and meetings. He's the neighborhood dad and taxi service and on top of that, is always willing to do his share around the house with dishes, laundry, mopping and making lunches for the kids.

I am so proud to have him as part of our studio and proud to give Ryan Crawford our Adult Student of the Year award.
2017
Emilie Foster
Yourh
Emilie Foster started as a participant in our summer "Martial Arts and Crafts Camp" two years ago. Her mother got her to come because she loves crafts and, indeed, she was our top artist and crafter, sitting long after everyone else decided theirs was done in order to get hers the way she wanted it.
She treats martial arts the same way. She is our top bo staff student and on nights when I feel tired and ask my son Ian to teach weapons, she will still come to me and beg to work on the new form we are creating for her for competition in 2018. Her enthusiasm seems to take away my tiredness and of course I help her.
Emilie pushes herself on perfecting her forms and techniques also and doesn't settle for good enough. She always goes for being the best. And although she is not a fan of sparring, she treats it the same way, working the techniques and always does well when we do point sparring in class.
As part of our tournament class, I tell the students that they can get Cs on their spelling tests and still pass in school, just as they can have C level karate techniques and still pass our gradings. But winning tournaments is more like winning the spelling bee, you not only have to have the A in class, you have be the better than EVERYONE else. Emilie is that A student.
Keith Foster
Adult
Keith Foster is many things — a baker who runs a farmer's market in downtown Greeneville, a good husband, father of four (all students at our studio, including Emilie), a science teacher at the local homeschool co-op, a major helper for every event we have including cleaning the studio and is quite a fine martial artist himself.
Like his daughter Emilie, Keith is a perfectionist when it comes to technique and attends more classes each week than any other student, sometimes coming twice a day for both morning and evening classes. He is a willing helper in classes, even those he is not taking, including children and Little Dragons. He has already talked about his ambition to someday open his own school (after all of the children are out of the house which means we get to keep him for at least another decade since his youngest is 8.) Keith is a student I know will make it to black belt.
2016
Caleb Crawford / Duane Ward
Youth / Adult
Youth – Caleb Crawford
One of the most rewarding parts of teaching is getting to watch children grow, not only in age and martial arts skills, but in maturity. Caleb Crawford joined us as a Little Dragon two years ago and is the only one from that class who stuck with it. He tested for his first Intermediate Belt on March 20 and I hope he will continue with us until he makes black belt and beyond.

Adult – Duane Ward
When Duane came to us in June, we welcomed him with open arms. A black belt in Soo Bahk Do, a slightly different style of Tang Soo Do and awesome skills with nunchaku and sai (two weapons we need,) he quickly learned our forms and is currently training to cross test as a Tang Soo Do Masters Alliance black belt. Duane keeps us on our toes. If we teach him anything that doesn't match our instructor's videos, he will never fail to point it out. It gives us lots of things to work on with our instructor, Master Charland!
2015
Nora Scott
Youth
This student is one of the most enthusiastic and dedicated students I have ever come across.
This student not only attends just about every class, but came to summer camp and competed in a NASKA rated tournament with us last year.
This student even came back for our summer camp last day performance after breaking her arm and going to the hospital to have it set.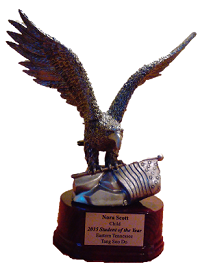 Nora Scott displays all of the qualities our organization emphasizes. She is honest, humble and respectful.
She perseveres, has integrity, self-control, and definitely has an indomitable spirit.
She is dedicated, she is motivated and she is definitely on a quest to be her best.
2014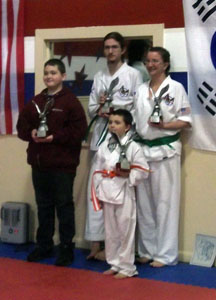 Adult – Jennifer Grillo-Foster
I don't know what I'd do without Jennifer. She forces me to sit down and do the books, gets me to try crazy ideas like running a craft fair and now, maybe, a tournament in August. And right, on top of that, she takes karate with us. She works hard at it, and shows up for just about every class we offer. She pays attention to detail on her forms and took first place in her very first tournament in Fayetteville last November.
Teen – Brandon Stafford
Have you ever had a student you weren't sure you could teach? Brandon was one of those. Tall and lanky, it seemed his legs and arms never wanted to go in the right direction or at the right time. But Brandon perservered and it is still amazing to watch his progress and watch him grow. He picks up form faster than most students I've ever seen. He listens, he corrects, he learns. He is a martial artist.
Child – William Stokes
William is one of those kids I know will always have martial arts in his blood and in his heart. He loves every class he attends, works hard, and even grins wide while sparring. It seems the harder we make him work the more he smiles. He is always a pleasure to be around and to have in class. He not only takes his own martial arts seriously, he is always willing to help with the Little Dragons too.
Dragon – Jaxon Lollar
Jaxon is about to become our first Dragon to be promoted into the Gup ranks! He has been coming for over a year and has grown up so much during that time. He comes to class regularly and even comes to both Little Dragons and the Kids' class as he makes the transition from one to the other! I look forward to watching Jaxon climb the ranks over the coming years!
2013
Brendan Shipley
Youth
Brendan started with our summer special last year and quickly progressed with the time and effort he put into it. He traveled with us to Knoxville to attend his first tournament which turned out to be huge. He got out there and performed his best. Although he is taking time off now to pursue soccer, aiming toward a soccer scholarship, I hope he returns next summer. He is a talented student who could have a great future in martial arts as well as soccer.
Mary Anne Fields
Adult
Mary Anne is one of our most regular and dedicated students. She goes far out of her way, and above the call of duty, to support the school and bring students our way. Her love of weapons matches my own and keeps her enthusiastically attending classes on top of holding two jobs. She may be one of our most senior students in age, but her enthusiasm makes it hard for the younger ones to keep up with her. She is the student described in our student creed and I hope she keeps attending to get her black belt.
2012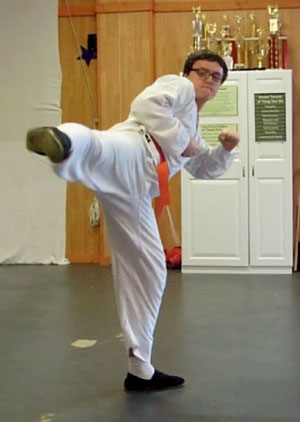 D.W. Robinette
Without D.W., our karate school would not exist. When I first moved to Greeneville, I tried all the karate schools, and did not find one to my liking. I was also teaching high school math at the time and D.W. was my student. He wanted to take martial arts but could not afford any of the local schools. He started bugging me to start one. Sometimes he bugged me daily. I didn't mind because I wanted to. I finally started the school and D.W. has attended every class since. He is a dedicated student, a hard worker, a fine martial artist and a future black belt.